Craftsy Unlimited is a fairly new subscription service where your subscription gives you access to ALL classes, even new ones that are released during your subscription.  And, thru May 23rd you can pay $1 for two weeks of Unlimited access.  This is a super deal, where you can watch ALL Craftsy classes, gain familiarity with Craftsy and the Unlimited program to decide if you want to sign up for an on-going subscription to Craftsy Unlimited.
If you do sign up for this 2 weeks for just $1, or the regular Craftsy Unlimited subscription, but later decide you want to cancel,  be sure to follow their steps to cancel:  https://www.craftsyhelp.com/hc/en-us/articles/115001730231-How-Do-I-Cancel-My-Subscription.  
Craftsy also has a great Customer Service Team that can help you too!
And, this weekened (thru May 20th) you can also find a great sale at Craftsy with up to 60% off project kits, supplies and tools.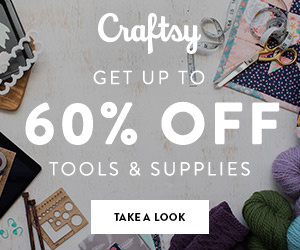 Here are some items that have caught my attention for this sale.  I'd love to hear what has caught your attention?
FULL DISCLOSURE:  QuiltShopGal is a Craftsy Affiliate.  I personally enjoy classes on the Craftsy Platform, and also enjoy shopping for kits, notions & tools via their online store.  I honestly feel they offer a great value.  As an affiliate, if you click a link from my site and make a purchase I "may" receive a small fee back, but the price you pay would be the same as if you had gone direct to their site, or clicked a link from another site.  Whenever I do receive such a fee, those funds are used to help supplement postage expenses for when I ship prizes to lucky winners.  Thus, I want to thank those that remember QuiltShopGal is an affiliate with Craftsy and uses links from my site to make such purchases.  I have plenty of pending giveaways I could host, but currently I just don't have the funds to ship prizes.  Hopefully later this summer, I'll be able to do such compliments of the Affiliate programs I belong to and followers that make such purchases.